Community Outreach
Connecting students, parents, and the community.
Community Outreach strives to be a family advocate and offer assistance to Murfreesboro City Schools children and their families.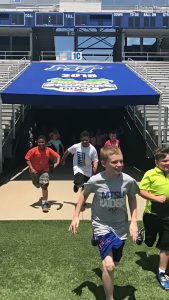 A child's performance in school is often affected by family dynamics. By focusing on the circumstances and individual needs of each family there is a better understanding of the children. Working with one family at a time, the goal remains the same:  helping children to be productive, successful students. Parent classes, home visits, referrals in the community and the family resource center are valuable tools in accomplishing this goal.
What happens outside of the classroom directly affects what happens inside the classroom.
The task of Community Outreach is to develop instructional support programs that ensure student learning, engage our parents, and connect community organizations, government agencies, volunteers, Middle Tennessee State University and other institutions with our schools.
Murfreesboro City Schools places a high priority on community involvement and actively seeks input to fully involve the community in its schools. We are committed to connecting our neighborhoods' needs and educating children for tomorrow. Contact the Community Outreach team to find out how you can become involved.