Every Day Matters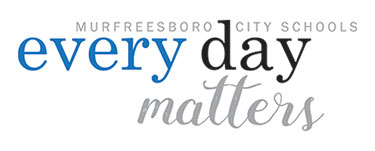 Attendance matters as early as kindergarten! Studies show many children who miss too many days in kindergarten and first grade can struggle academically in later years.  They often have trouble mastering reading by the end of third grade.
Good attendance in elementary school will help children do well in high school, college and at work.
School success goes hand in hand with good attendance and we want every child to succeed. Please unite with Murfreesboro City Schools as we help build the habit of good attendance.
Because…Every Day Matters.
(Download the Attendance Works Infographic)
(Download the Attendance Works Infographic in Spanish)
(Download the Elementary Attendance Flyer)
(Download the Elementary School Attendance Success Plan)
Attendance Awareness Month Kicked off Every Day Matters Campaign
Attendance Awareness Month was a nationwide event recognizing the connection between school attendance and academic achievement. During September, Murfreesboro City Schools worked with teachers, students and families to ensure everyone knows they have a role to play in ensuring children attend school regularly.
"We used the month to build awareness as we kicked off our Every Day Matters Campaign," says Joe Marlin, MCS Assistant Superintendent of Instruction. "Attendance in kindergarten through 6th grade directly relates to high school and college graduation."
Help Your Child Succeed In School – (Download the PDF) (Descargar en español)
Back to School: Help Kids Keep Their Attendance Up – Video Feature
Just as parents have a duty to focus on how their children are performing academically, they have a responsibility to set expectations for good attendance. Research shows students who miss 10 percent of school, or two days per month, show negative academic progress.
Parents and families are essential partners in promoting good attendance. This video is a must see video for everyone who has a child in school.
A great website to visit is www.attendanceworks.org.