Keep Our Children Safe
Stop Signs
Every year we go through school bus safety rules with children. We review the safety concerns of getting on and off the bus, how to perform an emergency evacuation, and the importance of following all safety precautions on the bus. Every year there are students who get killed due to carelessness and ignorance. Part of the fault lies with the students, but a majority of the fault lies with the motorist who ignores the safety and laws regarding a stopped school bus.
School buses are equipped with emergency 4-way flashers, 8-way student lights, and flashing stop signs, sometimes the rear of the bus is equipped with a flashing panel warning motorists behind the bus that the bus is about to stop. Each state has their own laws regarding stopping for buses that are loading and unloading children, most states require that motorists obey the signs attached to the bus as if they were a fixed point. That means, if the school bus has all lights activated, the stop signs attached to the bus are extended, and you see the door open and students either entering or exiting the bus, YOU MUST STOP! DO NOT roll by the bus at a crawl. DO NOT speed up to get past the bus that is already stopped with lights and safety protocol activated. DO NOT play chicken with the children who may or may not be in the road and paying attention to you.
Often children get off the bus and cross the road without even stopping to look for traffic. They assume since the school bus is stopped, that it must be safe. Also, there are parents who are waiting for their children to get off the bus, some with the younger sibling of the child. As a motorist, you DO NOT want to explain to a distraught mother why you ran the school buses stop sign, and struck their child as their child was running into their arms. Rest assured though, if you do run our stop signs, we are required by law to record your license plate number, the color of your vehicle, and a description of you, and you WILL be getting a visit from a nice deputy explaining why it is important to stop for a school bus. You may also get a ticket.
We understand you're busy and often in a hurry to get to your destination but please, consider the safety of the children and stop for school buses. You will be caught.
Always Cautious,
The Bus Driver
DANGER ZONE
The Danger Zone is the 10-foot area around the bus. The bus driver can't see a child when they are in the danger zone. If the bus starts moving while a child is in the danger zone, it could result in serious injuries to the child.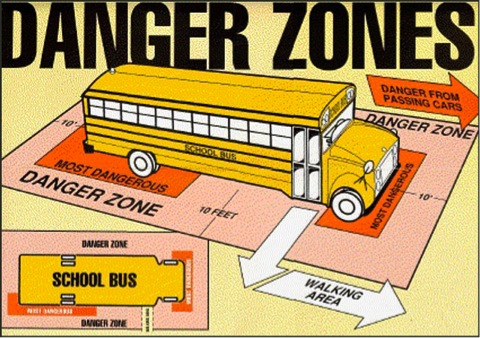 Safety
Safety is our #1 priority
We use the best equipment available for your child's protection. We have state-of-the-art buses with (GPS) Live Global Positioning Systems, child reminder systems, computerized routing, and DVR recording equipment. Our drivers and assistants receive on-going professional development training in the areas of student management, evacuations, loading and unloading, and federal and state laws. Drivers and assistants develop seating charts and keep parent contact information for every child on each route. At the beginning of every school year and during the year as children are added, every driver calls each child's parents/guardians to introduce themselves, tell them what bus their child will ride, and also give pick-up and drop-off times. We transport very precious "cargo" — your children. Thank you for your trust and support. Your child's safety is, and always will be, our #1 priority.
Bus Technicians
The Murfreesboro City School Transportation Department is fortunate to have as a part of their staff two award winning bus technicians Joe Golden and Randy Mealer. These two technicians are responsible for keeping our fleet of more than 23 buses fully operational. In 2009 Our Technicians were voted by School Bus Fleet Magazine as one the nations 10 top shops. (View Article) Parents can be assured that their child is riding on a bus that has been properly maintained to the highest state and national standards. Our technicians are also responsible for maintaining 33 additional vehicles which belong to Murfreesboro City Schools.
Listed below are the forms the transportation department of Murfreesboro City School uses. If there are any changes such as address, telephone number, who will be receiving your child from the bus stop or a special request for transportation for a non-established rider. After filling in all pertinent information please return the form to your child's school. This information is vital to ensuring that parents and students receive the best quality transportation possible.