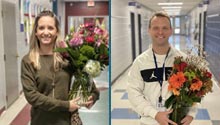 We are excited to announce our 2021-2022 Teachers of the Year for Murfreesboro City Schools.
Teachers from each school were nominated by their peers for the prestigious education award given by the Tennessee Department of Education.
School Level Teachers of the Year are:
Black Fox – Kim Inglis and Kristy Lewis
Bradley Academy – Macari Harrison and Donna Beers
Cason Lane – Amy Walker Kristy Timberlake
Discovery – Kelly Holman and Melissa Carnes
Erma Siegel – Devontae Kelley and Jennifer George
Hobgood – Nichole Bell and Olivia Calvo
John Pittard – Francina Jackson and Stephanie Stephens
Mitchell-Neilson – Amy Adcock, Ashlee Walker, and Clinton Staggs
Northfield – Rachel Davenport and Shirelle Ford-Jackson
Overall Creek – Anna McDonald and Amanda Turnbo
Reeves-Rogers – Malia Rankins and Brittany Davison
Salem – Kimberly Kahle and Lance Pearcy
Scales – Jessica Sorth and Kayla Embry
Kim Inglis from Black Fox and Lance Pearcy from Salem were selected System-level honorees and will represent MCS at the regional level.