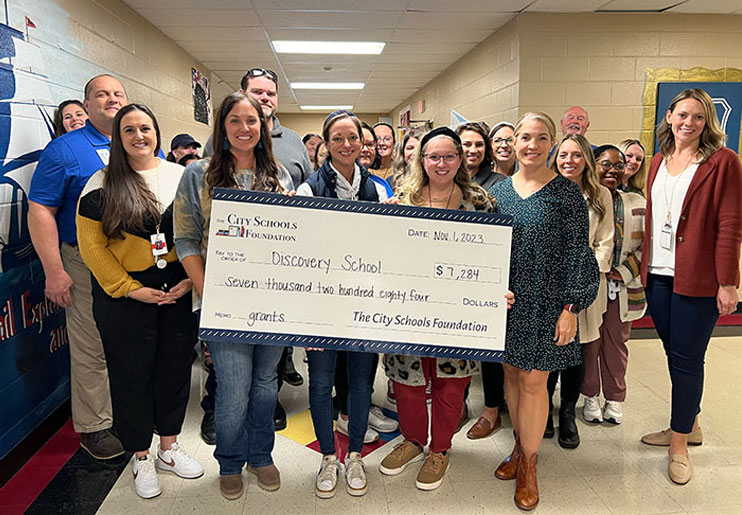 The City Schools Foundation distributed a record setting $106,000 in grants to Murfreesboro City School teachers. The Foundation asks educators to submit proposals for funding that will help acquire resources for classrooms not ordinarily provided by taxpayer dollars.
Grants are submitted anonymously and are judged solely on their merit by a committee. Over 120 grants were submitted for consideration.
"Reading and scoring the grants is one of the most rewarding jobs as a foundation board member," says David Scott, grant committee chair. "Thanks to the support of our sponsors and other foundations, this is the first year that we were able to fund over $100,000 in grants which was incredible. It is inspiring to see how educators are utilizing these grant dollars to enrich the education of students."
Forty-five grants, representing twelve schools and the district, were selected for funding, and ranged from $121 for Science Support to $17,854 for Music. Grants averaged $2,355 in disbursements in 2023.
To date, The City Schools Foundation has given over $1.2 million. This year, the overarching theme requests consisted of STEM based programs, music enhancement and social emotional support. The City Schools Foundation through the Nissan Foundation funded materials for robotics earlier in the year.
"The works of this foundation reminds me of a quote from Margaret Mead: 'Never doubt that a small group of thoughtful committed citizens can change the world,'" says Dr. Trey Duke, Director of Schools. "From its inception, the undisputable purpose of the individuals who have served on the foundation board has been and continues to be to serve the students and teachers of Murfreesboro."
Funded grants included:
• Black Fox: STEAMing Up Science
• Bradley: Makey Makin' Music
• Cason Lane: "The Banana Piano" – MaKe + Key = MaKey; Stacking Up on Math; Imagination, Set Free
• Cason Lane Pre-K: Pre-K Peace Corners, Sensory Room
• MCS District: Getting Ahead of the Game, Robotics for All and All for Robotics, MCS Honor Band
• Discovery: If You Build It, They Will Come; Social Emotional Learning with Slumberkins; Get Vertical With Thinking; Eyes on Pollinators
• Erma Siegel: Aim High, Soar Higher; Using White to GO GREEN!!; "STEM"ulating Young Engineers; "We will Rock You" – Rock Wall; Science Support for Multilingual Learners; LingoPens for Equity; Storyboard That: Digital Storytelling
• Hobgood: Electric Stove; Connecting the Future
• John Pittard: Classroom Material; Growing Experiments for Growing Minds
• Mitchell-Neilson: Gelli Plates for Printmaking; Hands-On Math; Chain Reaction Central; Breaking the Language Barrier with Technology; Literacy in the Music Classroom
• Northfield: Beebot-Dashbot-Everywhere a Robot
• Reeves-Rogers: Play Therapy: Healing Through The Art of Play
• Salem: Empowering Students with Chromebooks in STEAM Class; Classroom Math Read Alouds; Spring into Action!; "App"solutely" Amazing; "Watch Us Grow!"; "Splashing Into Hydroponics!"; Bee-Bottin' Our Way through the Alphabet; Gee Whiz Geoboards; Razzle Dazzle; Books for Boost
• Scales: Mobile Melodies: The Keys to Unlocking Music Creation; Reeds, Reeds, We Need Reeds: Consumable Materials for Beginning Band Students; Giving Math a Hand
In addition to being a resource for other foundations, The City Schools Foundation has two primary fundraisers – Excellence in Education and a new tennis fundraiser – Serve it UP.
The City Schools Foundation is a private, not-for-profit, 501(c)(3) organization. Chartered in 2005, the Foundation was created by volunteers from the community who wanted to supplement the resources available to the Murfreesboro City Schools System. Follow The City Schools Foundation on Facebook for upcoming events.