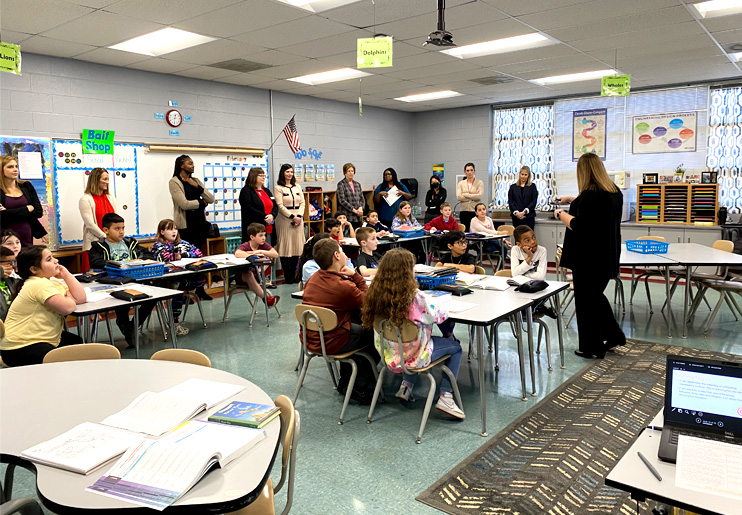 Over 40 members of the Council of Chief State School Officers (CCSSO) from across the country traveled to Murfreesboro to tour Black Fox and Hobgood Elementary to see teachers and students using curriculum-based instruction with integrity as part of a national conference in Nashville. Murfreesboro City Schools was the only district selected to be visited during their weeklong conference.
"MCS teachers are being highlighted for their impeccable work using the English Language curriculum," says Sheri Arnette, Assistant Superintendent of Instruction. "Our reading coordinators, coaches, principals and teachers appreciate the need to understand and apply researched based teaching techniques."
Teachers in Murfreesboro City Schools are implementing high-quality instruction materials which include foundation skills and knowledge building to increase reading and comprehension across grade levels. MCS was highlighted earlier this school year by the Knowledge Matters Campaign as a leader in instructional practices including content knowledge, reading comprehension and critical thinking.
Members of the CCSSO visited multiple classrooms in two schools and observed teachers and students in the classroom.
"To see students continue their work with multiple adults entering their classroom was impressive," says Dr. Trey Duke, Director of Schools. "We are pleased to lead other educators through our classrooms and model great teaching. It's an honor that is well deserved by our teachers."
The CCSSO is a nonpartisan, nationwide, nonprofit organization of public officials who head departments of elementary and secondary education in the states, the District of Columbia, the Department of Defense Education Activity, the Bureau of Indian Education and the five U.S. extra-state jurisdictions.