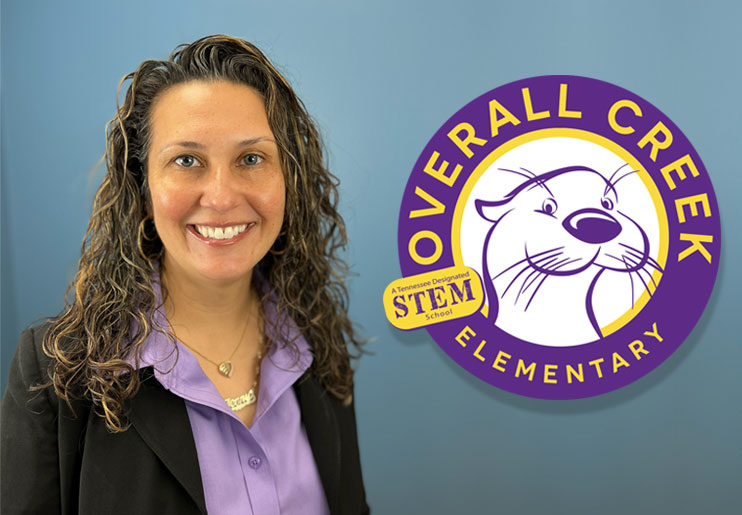 Jenny Ortiz will assume the role of Principal at Overall Creek Elementary in the 2023-24 school year.  Dr. Trey Duke, Director of Murfreesboro City Schools, announced Thursday the appointment of Ortiz as Principal replacing Don Bartch who will be assuming the role of Assistant Superintendent of Support Services at MCS.
"Jenny has the respect of teachers, students, and families," says Duke. "She understands the vision of our district and the needs of Overall as a school. She was the overwhelming choice to lead Overall Creek and I know the parents and staff will support Jenny in her new role."
Ortiz has been with Murfreesboro City Schools for over 18 years and served in an administrator role since 2012.  In 2019, joined Overall Creek as Assistant Principal. Ortiz is a respected administrator and an advocate for children.
"Jenny has been a vital part of the success of Overall Creek and is the right choice to take the lead at The Creek," says Bartch, who opened Overall Creek in 2014. "Working with Jenny has been an honor. She has the passion and knowledge to lead Overall into the future."
Ortiz, a native of Florida, received her Master of Education degree in Administration and Supervision from MTSU. Ortiz earned her Bachelor Degree from University of North Carolina, Wilmington.
Overall Creek was the first Tennessee STEM designated school in Murfreesboro and one of the first elementary schools in the state to receive this prestigious designation.  Likewise, Overall Creek has served as a host school the Tennessee Rural STEM Collaborative and served as a model elementary STEM school for many district and school leader tours.
"I am excited to embrace this new challenge," says Ortiz. "Mr. Bartch leaves big footprints to follow. However, Overall has an amazing group of parents, staff members, and students. Together, we will work to continue be a leader in STEM and student success."
Overall Creek is the home to nearly 1,000 students and has remained one of the largest schools in Murfreesboro since its opening.